With stocks full and new models arriving in the autumn, the 4th of July weekend is generally one of the busiest for new-vehicle retailers, and automakers are pulling out all the stops to entice shoppers into showrooms. We've put together a list of some of the best discounts, including 0% financing, cash back, and attractive leasing packages on Cars, Trucks, and SUVs that are available through the 4th of July weekend and beyond. So get yourself one of these cars this Independence Day.
2022 Kia Forte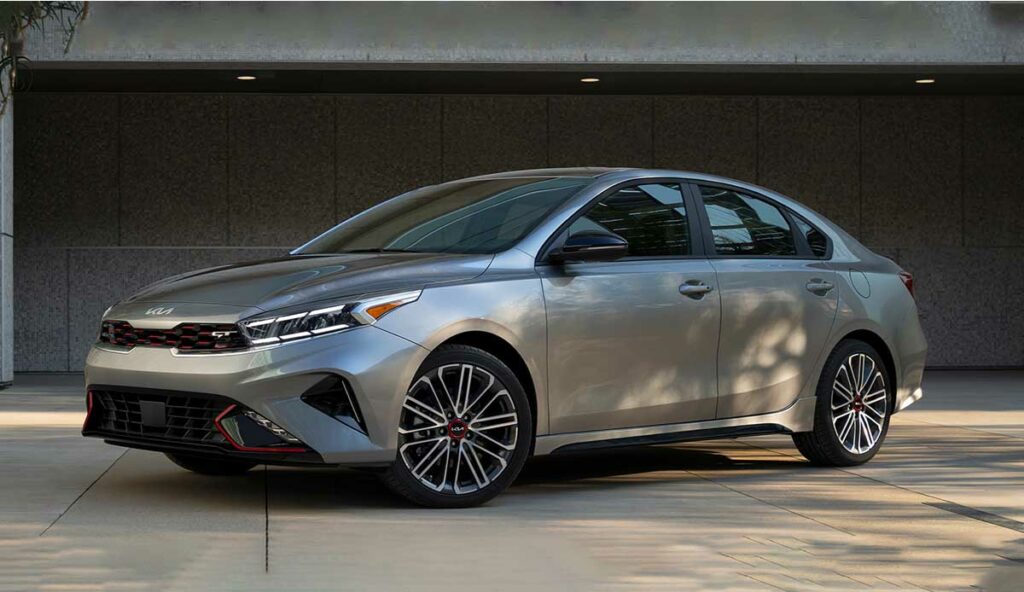 MSRP: $19,590
Trim levels: FE, LXS, GT-Line, and GT
Seating: 5
Offer: The 2022 Forte LXS is available to lease for $209 per month for 36 months with a $2,799 down payment instead of $280 per month, which decreases your lease cost per month by almost a quarter. To take advantage of this fantastic lease offer this Independence Day, visit the Kia dealership near you.
Power and Engine: There are two engine options available for this car. The first is a 2.0-liter four-cylinder engine with 147 horsepower and a CVT transmission. While this engine is acceptable for commuting, it lacks appeal due to its slow acceleration and inefficient CVT.
The GT model comes only with a 201-hp, turbocharged 1.6-liter four-cylinder engine. This engine has a more dynamic performance and is available with either a six-speed manual or a seven-speed dual-clutch automatic gearbox.
2022 Chevrolet Bolt EUV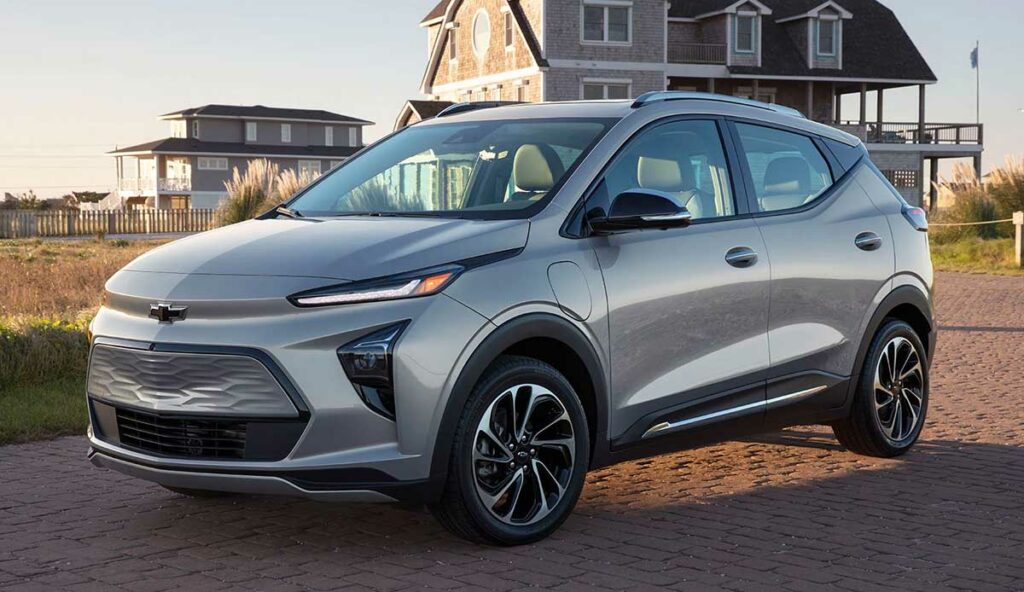 MRSP: $34,495
Trim levels: LT, Premier, Launch edition
Seating: 5
Offer: Chevrolet is offering a whopping $6,300 cash back on the purchase of a 2022 Bolt EUV. Visit your local Chevy dealer to take advantage of the cash-back offer.
Power and Engine: The engine on all Bolt EUVs is a 200-hp electric motor with front-wheel drive. There is no alternative for all-wheel drive. Regenerative braking enables one-pedal driving while reclaiming energy, extending the capacity of the Bolt EUV. The Bolt EUV's electric engine provides lively performance, and while it isn't the fastest electric SUV on the market, it manages to reach 60 mph in a respectable 6.8 seconds.
2022 Ram 1500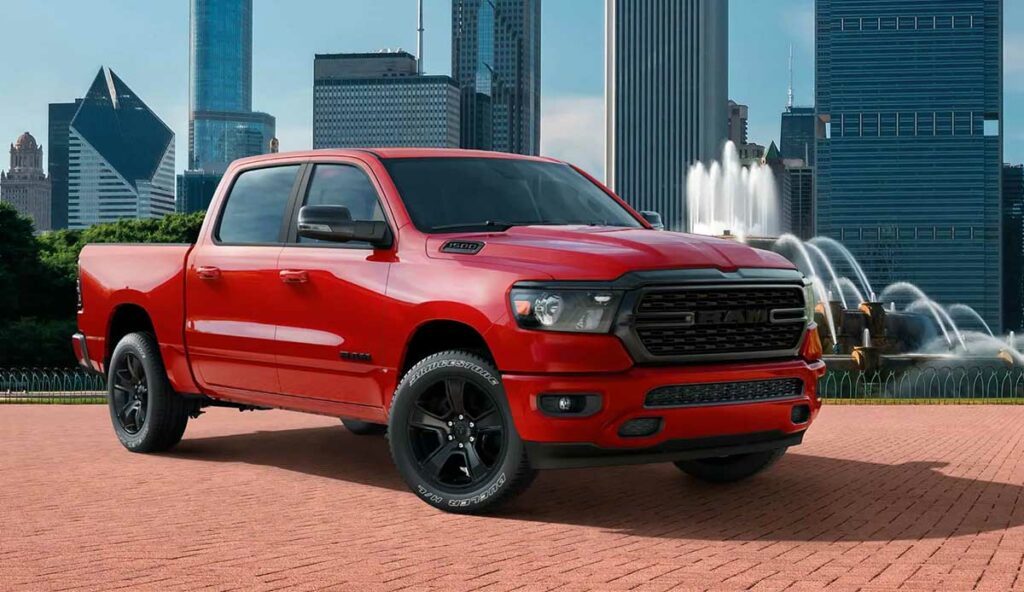 MRSP: $38,295
Trim levels: Tradesman, Tradesman HFE, Big Horn, Laramie, Rebel, Limited Longhorn, Limited, TRX.
Seating: 6
Offers: Ram is offering a fantastic 0% financing rate for up to four years on Laramie trims, as well as a $2,000 rebate. It also offers a great deal on the 1500 Big Horn Quad Cab 4×4 if you want to lease it. The truck is available for lease for $319 per month for three years with a $4,199 down payment. Contact your local dealer to learn more.
Power and engine: V-6 and V-8 gasoline engines are available in a variety of trim levels, all of which are paired with a smooth-shifting eight-speed automatic gearbox. A 48-volt hybrid system aids both engines, but the 5.7-liter Hemi V-8 may be ordered without electric assistance. The Rams' diesel 3.0-liter V-6 produces 480 pound-feet of torque, which is more than the half-ton Chevrolet Silverado and GMC Sierra's diesel engines. Air suspension models also offer adjustable ride heights, which improve fuel efficiency and off-road capability. Its light steering and powerful brakes allow for comfortable motoring.
2022 Honda Civic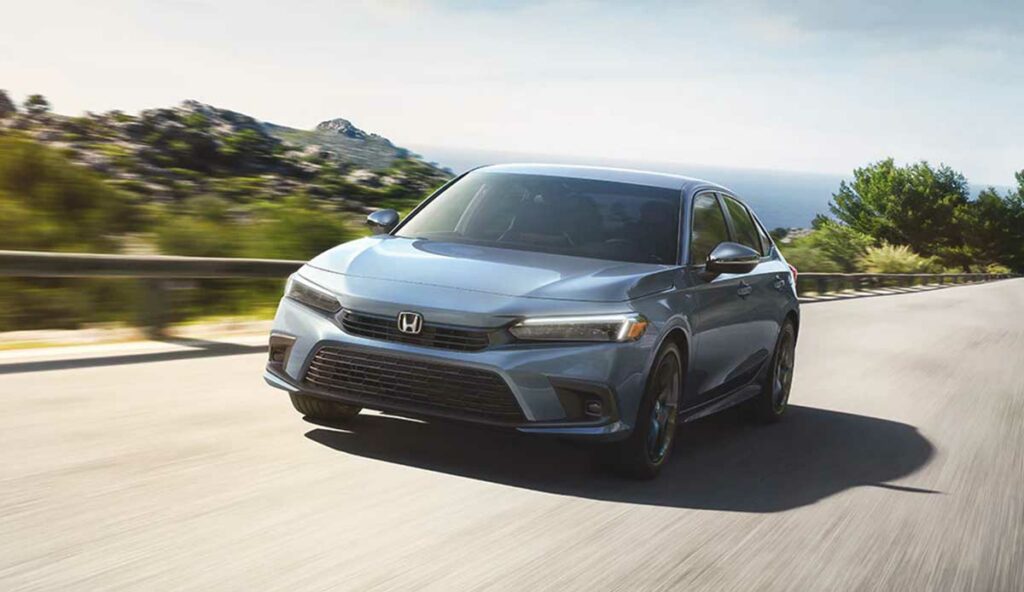 MRSP: $23,645
Trims and levels: LX, Sport, EX, Touring. The hatchback is available in LX, Sport, EX-L, and Sport Touring.
Seating: 5
Offers: The Civic sedan is offered for lease for $229 per month for three years with a $3,499 down payment instead of the $322 per month for 36 months plan. Owners of a 2012 or newer Honda vehicle can save an additional $20 per month on installments and $100 on the down payment.
Power and engine: The base engine is a 2.0-liter four-cylinder with 158 horsepower, while the upgraded engine is a 1.5-liter turbocharged four-cylinder with 180 horsepower. Only front-wheel-drive versions of the new Civic are available. Unfortunately, the previous generation Civic sedan's manual gearbox has been eliminated for 2022, leaving only a continuously variable automatic transmission (CVT) as an option; a six-speed manual is still available on the hatchback variant. The turbocharged Touring sedan accelerates to 60 mph in 7.5 seconds, which is a fraction slower than the previous generation Civic. We tried the manual Sport Touring hatchback, which took 7.3 seconds to reach 60 mph.
Chevrolet Equinox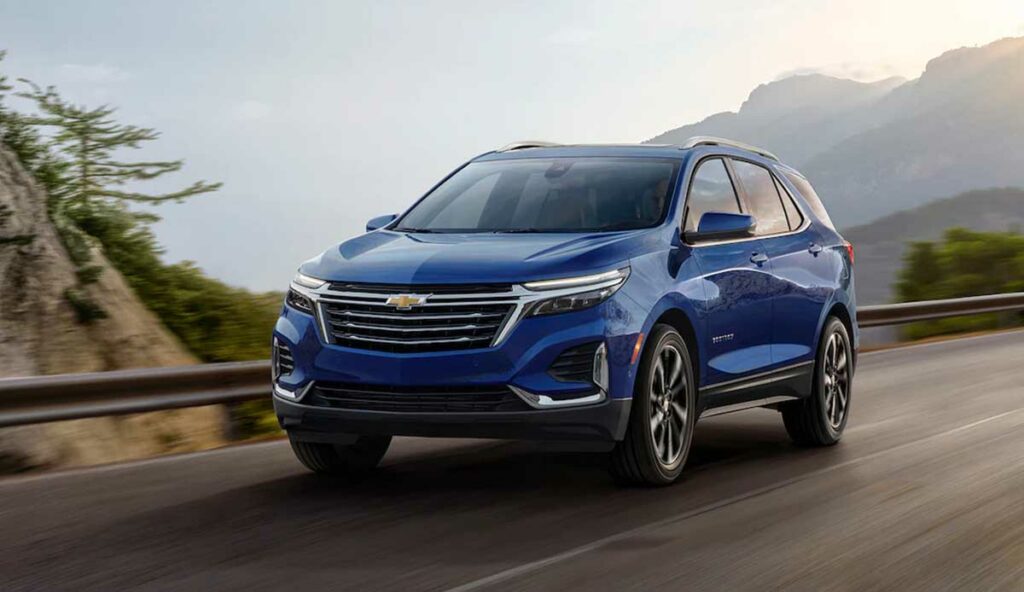 MRSP: $27,445
Trims and levels: LS, LT, RS, Premier
Seating: 5
Offer: Due to a shortage of new SUVs, sign-and-drive leases are becoming more and more difficult to locate. But customers who meet the requirements can lease the Chevy Equinox this Independence Day for $340 per month for two years with no down payment needed. Simply sign the lease paperwork, then drive off in a brand-new Equinox.
Power and engine: The 1.5-liter turbocharged four-cylinder engine in the 2022 Chevrolet Equinox generates 170 horsepower and 203 pound-feet of torque. Front-wheel drive and six-speed automatic transmission are included as standard; an all-wheel drive is an option.
Although the ride is stiffer in RS versions, which feature 19-inch wheels with low-profile tires, the suspension gently filters out most shocks and drops in the roadway as well.
2022 Kia Stringer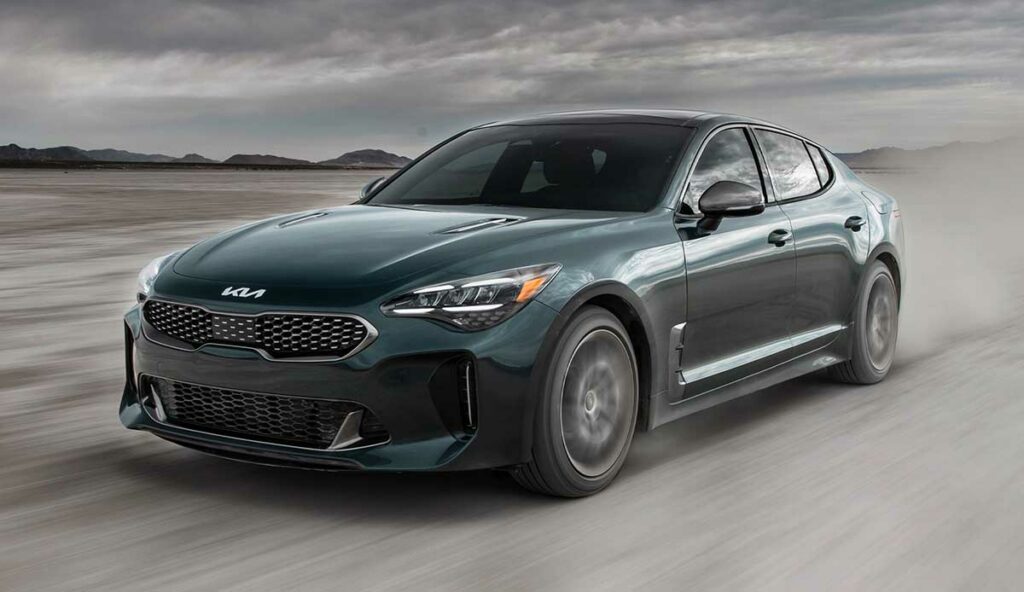 MRSP: $37,435
Trim Levels: GT-Line, GT1, GT2
Seating: 5
Offer: Kia is offering 1.49 percent financing on the 2022 Stinger for up to 48 months just for this Independence Day weekend.
Power and Engine: The basic engine in the 2022 Kia Stinger is a 2.5-liter turbocharged four-cylinder that produces 300 horsepower and 311 pound-feet of torque. This bigger engine offers the Stinger a competitive advantage over the 255-horsepower 2.0-liter engine that came standard in the 2021 Stinger.
Standard paddle shifters add a degree of engagement to a fast eight-speed automatic gearbox, which accelerates quickly from a stop and at higher speeds. This powertrain offers a fast exhaust noise, but it can sound unrefined, according to some test drivers. The turbo-four basic model, according to Kia, can go from zero to 60 mph in 5.2 seconds.
2022 Ford Bronco Sport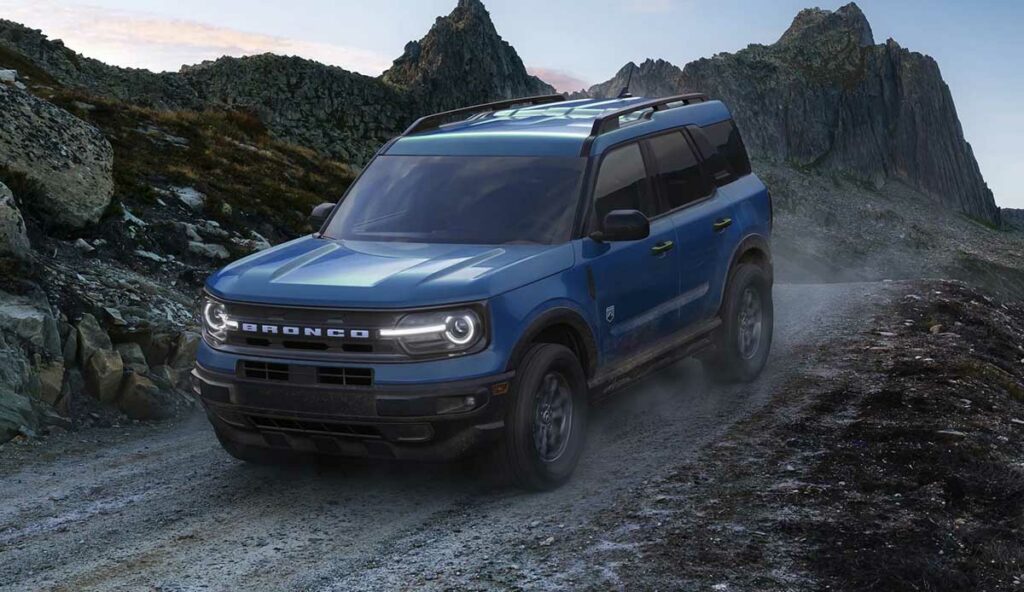 MRSP: $30,160
Trim levels: Base, Big Bend, Outer Banks, Badlands
Seating: 5
Offer: Looking for a great deal on a Bronco? A 2022 Bronco Sport may be yours this 4th of July for $386 per month instead of $467 per month for 39 months with a $3,372 down payment.
Power and engine: The Bronco Sport is built on the same chassis as the small Escape crossover, and it comes standard with all-wheel drive in every trim. The standard engine produces 181 horsepower and is a turbocharged 1.5-liter three-cylinder, but a 245-horsepower turbo 2.0-liter four-cylinder is also available. Both come with an eight-speed automatic transmission, but the more potent engine adds steering-wheel-mounted paddle shifters as well as improved cooling systems. A twin-clutch rear-drive unit with a differential lock is standard on the top-tier Badlands trim level. It also has all-terrain tires on 17-inch wheels, a 1.0-inch suspension lift for increased cargo space, and heftier traction control.
2022 Dodge Challenger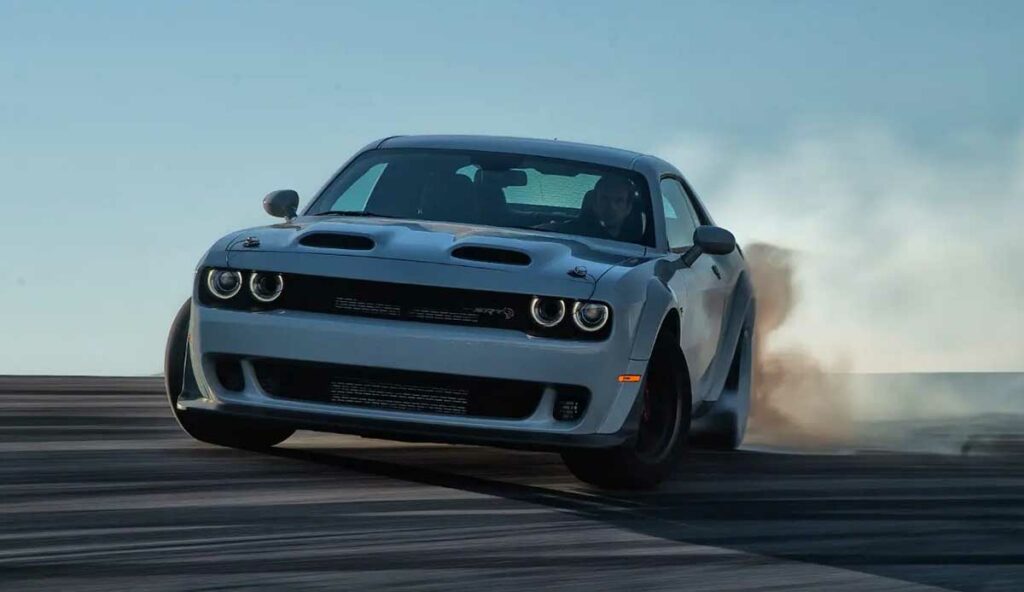 MRSP: $32,025
Trim levels: SXT, GT, R/T, R/T Scat Pack, SRT Hellcat, SRT Hellcat Redeye, SRT Super Stock.
Seating: 5
Offer: Looking for a classic American car to get the nostalgic feeling back for this Independence Day? Drive in a new 2022 Challenger with a low 1.9 percent loan rate for up to five years. Make an appointment with a Dodge dealer near you to take advantage of this exceptional offer.
Power and engine: The standard 305-hp V-6 in the Challenger will not satisfy adrenaline seekers. The little engine is paired only with an eight-speed automatic transmission, but it lacks the quickness and thrill of its rivals in the hefty Challenger. The Dodge Hemi V-8 engines, on the other hand, are a different story. The 375-hp, the 5.7-liter engine has enough power to powerslide on demand, and its gruff roar is quite satisfying. The 6.4-liter V-8 engine, which generates 485 horsepower and 475 pound-feet of torque, is recommended for anyone wishing to exploit the Challenger's capability.
2022 Ford Mustang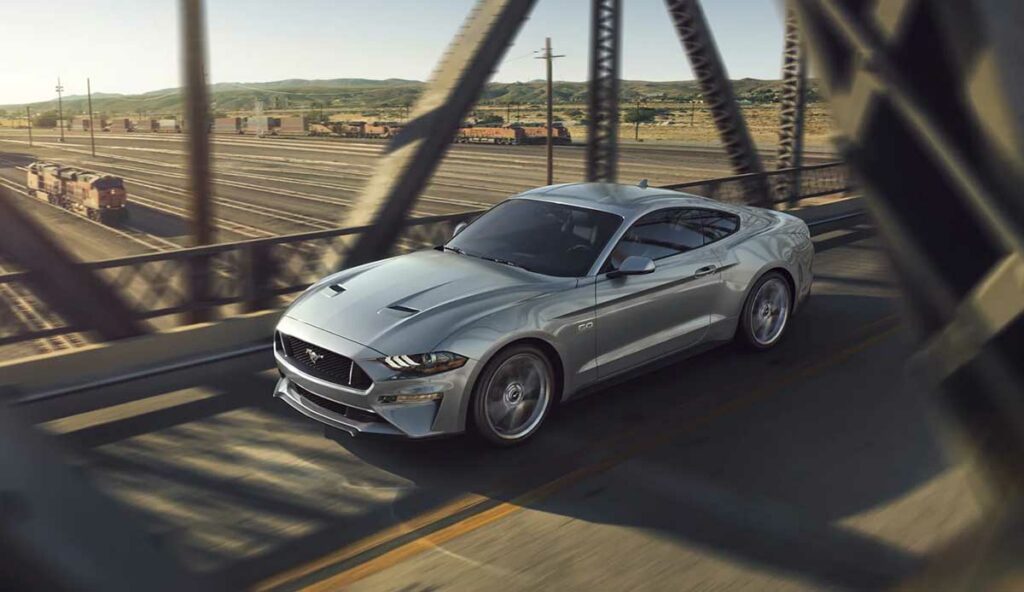 MRSP: $28,865
Trims levels: EcoBoost, EcoBoost Premium, GT, GT Premium, Mach 1, Shelby GT500.
Seating: 4/2
Offers: Ford is offering a $1000 discount for the Mustang lineup. Visit a Ford dealership to purchase your all-new Mustang.
Power and engine: The standard turbocharged EcoBoost four-cylinder engine is powerful enough to put previous V-8 Mustangs to shame. A more melodious and quick EcoBoost engine adapted from the defunct Ford Focus RS is also available as part of the High-Performance package. The four-cylinder coupe may also be equipped with the optional EcoBoost Handling package, which makes it race-ready. The GT versions include a 450-hp V-8 engine with an optional active exhaust system that produces a deafening roar. Both of these powerful engines are mated to a six-speed manual or a 10-speed automatic transmission, making the Mustang even faster than ever. The revived Mach 1 model has the finest performance credentials, with the track-focused Performance Pack Level 2 (PPL2) and the superb Bullitt variant being put to pasture.
Mazda CX-30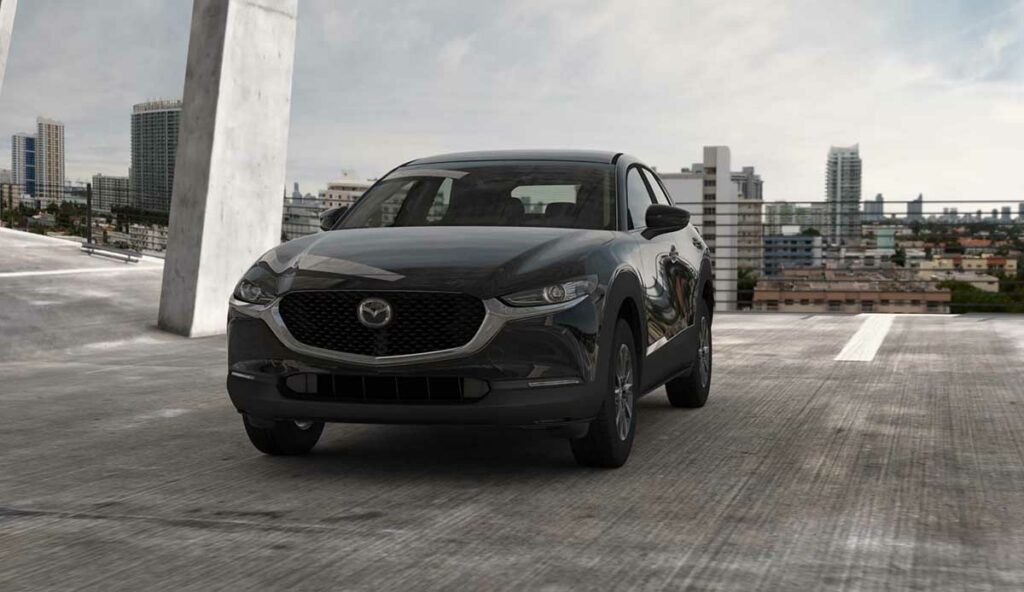 MRSP: $23,725
Trim levels: 2.5 S, 2.5 S Select, 2.5 S Preferred, 2.5 S Premium, Turbo, Turbo Premium, Turbo Premium PLus
Seating: 5
Offers: This compact mini SUV is available for $229 per month for 24 months and $2,999 due at signing. It's a no-brainer to grab this deal since it's quite low compared to the regular $312 per month deal. To learn more, contact your nearest Mazda dealership.
Power and engine: The CX-30 comes standard with a 2.5-liter four-cylinder engine that produces 186 horsepower and is mated with a six-speed automatic transmission that intelligently selects ratios based on driving circumstances. A 250-horsepower turbocharged 2.5-liter engine is available as an upgrade. If you like the Mazda 3 hatchback, you'll love the CX-30. It's as agile, sporty, and enjoyable to drive as the Mazda 3. Its quick steering and smooth body motions make it a joy to operate on a twisting road and give it a sense of stability while cruising. The CX-30 takes 8.1 seconds to reach 60 mph, which is slower than the turbocharged Kona but faster than the Nissan Rogue Sport and Subaru Crosstrek. The CX-30 with the optional turbocharged engine had much faster acceleration, clocking in roughly 5.8 seconds from zero to 60 mph.
---